2018 Dialogue Geely-A Brief Talk on Production Logistics Planning and Application
---
Key words: Planning,Auspicious,Car,CSG,Logistics,Client,Produce,Application,Planning
From November 8th to 9th, the "2018 Dialogue Geely-Connection, Assembly and Logistics New Technology Exchange Conference" with the theme of "technology/new process/new direction & intelligent manufacturing" was successfully held in Hangzhou Bay Geely University School in Ningbo, Zhejiang. This meeting gathered service providers of connection and assembly technology and logistics solutions to discuss the development and cooperation of Geely's connection, assembly and logistics technology. This meeting aims to build a cooperation platform for Geely to connect and communicate with suppliers at a short distance.
Geely & CSG Huaxiao
Zhejiang Geely Holding Group was founded in 1986. Since entering the automobile field in 1997, Geely has achieved rapid development with its flexible operating mechanism and continuous independent innovation concept. As a national "innovative enterprise" and "national automobile export base enterprise", Geely has entered the list of the world's top 500 for seven consecutive years, and has entered the top 500 of Chinese enterprises for fourteen consecutive years. It is one of the top ten in the Chinese automotive industry.
Geely owns car brands such as Volvo Cars, Geely Automobiles, Link Cars, Polestar, Proton Auto, Lotus Motors, London Electric Cars, and Remote New Energy Commercial Vehicles. Geely plans to achieve annual production and sales of 3 million vehicles by 2020, and enter the top ten of the world's auto companies.
In 2016, the first auspicious project of Huaxiao Precision Industry (Suzhou) Co., Ltd. (hereinafter referred to as CSG Huaxiao) -Geely Baoji final assembly SPS distribution project was successfully implemented; so far, the cooperation project between CSG Huaxiao and Geely has reached four More than ten. With more than two years of cooperation, the relationship between CSG Huaxiao and Geely is getting closer. In the future, we will work together to create more exciting.
On Production Logistics Planning and Application
At this conference, He Chao, Minister of Planning Department of CSG Huaxiao came to the stage and delivered a wonderful speech entitled "Talking about the Planning and Application of Production Logistics". This lecture is based on the three principles of planning: rationalization of assembly, process matching, intelligent management, and the two major ideas of planning: unmanned parts flow and flexible product flow. The characteristics of the plan. In addition, the speech also separately explained the logistics characteristics of each workshop from the two parts of the automobile OEM: powertrain and vehicle assembly, and listed the project cases one by one to explain.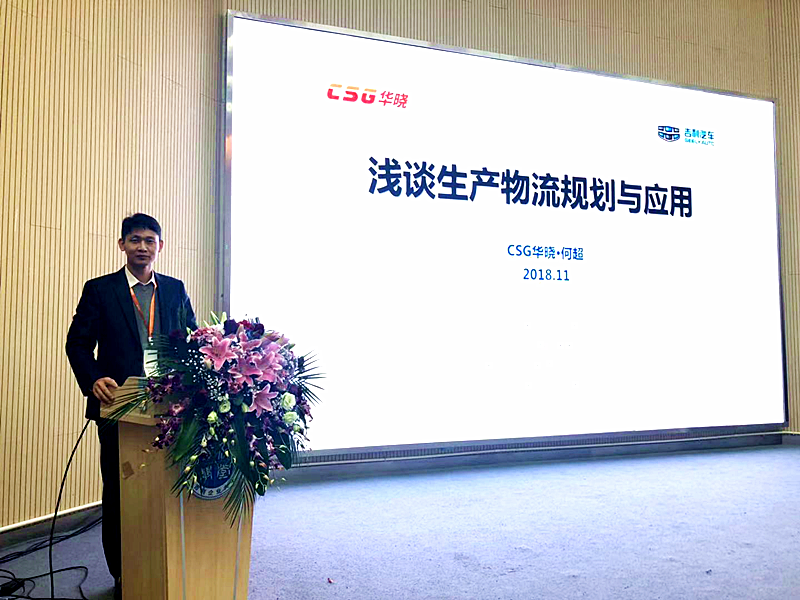 The reason why CSG Huaxiao has such a deep understanding of the current production logistics planning comes from the company's in-depth understanding of the automobile factory and in-depth analysis of logistics. For different application scenarios and with different application concepts, CSG Huaxiao summarized a set of own planning experience.
About CSG Huaxiao
CSG Huaxiao is a total solution provider of intelligent logistics. It is committed to the unmanned logistics in the manufacturing field, the flexibility of production and assembly, and the intelligentization of automotive electronics inspection. It can provide customers with overall solutions and core products in the above fields. 90% of CSG's customer base is concentrated in the automotive and auto parts industry, and most of the mainstream domestic auto companies are our customers.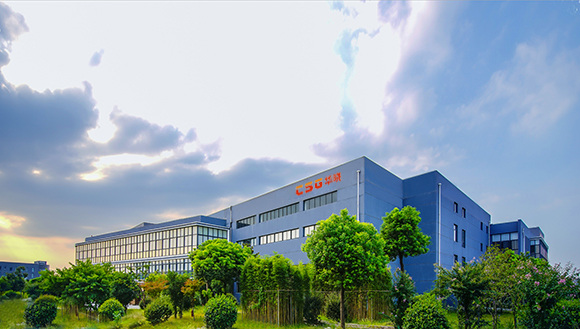 Founded in 2003, CSG Huaxiao has been cultivating in the field of intelligent logistics for 15 years. With years of rich project experience, excellent talent team, and professional R&D capabilities, CSG Huaxiao thinks about what customers think and strives to provide customers with intimate Service, high-quality products, perfect solutions.